click and email your enquiry to us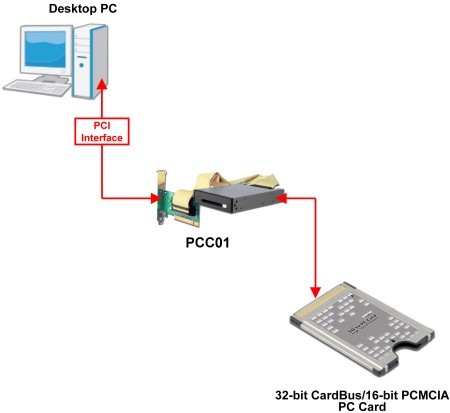 Compliant with 32-bit CardBus Type II PC Card interface (JEIDA 4.2).  Maximum frequency reaches 33MHz.
PCI-to-CardBus adapter provides 3.5" front drive with 1 slot.
Support all kinds of application in CardBus / PCMCIA interface, like Internet access via 3G DataCard / WLAN, ATA Flash / Memory Card Adapter, etc.
Support both 3.3V low-voltage 32-bit CardBus cards and 3.3V/5V dual-voltage 16-bit PCMCIA cards.
Data transfer rate is up to 133MB/s.
Support plug & play and hot-swappable CardBus and PCMCIA cards.
Native driver for Windows XP and bundled ISA-IRQ routing driver software routes 16-bit PC card IRQ to shared PCI INT#.
Front-slot design for easy access and hot-swapping.
18-inch PCI flat-ribbon cable connecting between PCI-adapter and front-access reader - ideal as test equipment requiring the setup for external mounting.
PC98/99/2001 compliant.
Compliant with ACPI and PCI Bus Power management 1.1.
Compliant with PCI Local Bus Specification 3.0.
Maximum frequency 33MHz.
3.3V Interface (5V tolerant).
Compliant with PC Card Standard Release 8.1 16-bit / 32-bit Specification.
Supports Legacy 16-bit mode.
Support OS: Windows 98SE / 2000 / ME / XP
Ambient Temperature under bias 0℃ to 70℃.
Storage Temperature -40℃ to 125℃.
PCI Adapter * 1
3.5" Front Drive * 1
Cable Assembly * 1
Mounting Screw * 4
User's Guide * 1
Gift Box * 1
Memorypack堡隆有限公司 / POLU industrial Ltd , Main Products:
‧Smart phone case / cover / shell
‧Manufacturing & design of PCB: For dram memory modules, For flash memory cards, For SSD (Solid State Disk), For USB
‧Flash memory card & accessories
Flash memory card readers / adaptors ( Micro SD /SDHC to SD/SDHC, Mini sd to sd adaptor, Micro SD/SDHC to mini SD/SDHC, Micro SD to CF I, SD / SDHC / MMC to CF II reader adaptor, All in 1 memory card reader / adaptor, Micro sd to USB 2.0 reader / adaptor, Micro SD & m2 to USB 2.0 reader / adaptor, SDXC & SDHC to USB 2.0 reader / adaptor, SD & SDHC to USB 2.0 reader / adaptor, Micro SDXC & SDXC to USB 2.0 reader / adaptor, USB 3.0 reader (support micro sdxc & sdxc), micro sd to xD, SD / SDHC / MMC card to cardbus pc card reader / adapter, PCI to CardBus/PCMCIA PC Card Adapter + 3.5" Card Drive, CF (CompactFlash) to 2.5" SATA (Serial ATA) interface HDD )
Memory card packages ( Memory card storage box, Memory card packages(pure plastic blister clamshell box , envelope paper pack + internal plastic inserts , memory card mini cases / jewel boxes, memory card trays), Memory card labels / stickers )
Introduction of flash memory cards' brands ( Fujitsu memory card, Kingston dram memory module / flash memory cards )
Memory card / USB duplicators
Dram memory module packages, dram memory module heat sinks ( Long dimm, So dimm, VLP dimm, Mini dimm, VLP mini dimm, Micro dimm, Sun module, Apple FB dimm, 72 pin, cardboard box )
‧SSD (Solid State Drive) & accessories ( packages and tray, adapters / converters )
‧Hard Disk Drive (HDD) and accessories (2.5" SSD / 2.5" HDD / 1.8" SSD / 1.8" HDD, 3.5" HDD)
‧CPU processor and accessories (Plastic blister &Trays for CPU processor: Intel P3, Intel 478, Intel LGA 775 /like E5400, Intel LGA 1156/like G6950, Intel LGA 1366/like I7-930)
‧USB Flash Pen Driver Packages
‧ESD cardboard box
‧Plastic bags for battery, memory cards & others
‧Dram memory module converter / adaptors
www.memorypack.com.tw
www.wjp-memorypack.com