click and email your enquiry to us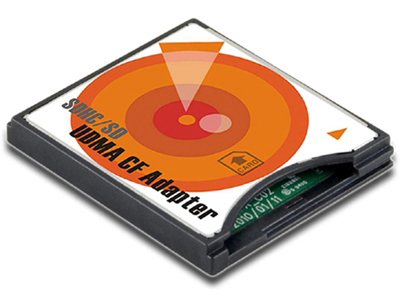 Model number
Description
Features
SDCFA-C04
SDXC / SDHC / SD Card to
Type II

UDMA

CF Card Adapter
Transferring high-speed SDHC Card to Type II UDMA CF Card.

Supports UDMA data transfer mode (PC Card mode or IDE mode), access rate is up to 33MB/s.

Allows using SD Card on any device with CF socket
Suitable for UDMA CF equipped DSLR to use high-speed SDHC Card as a storage media
Alternative solution to connect the SD Card to IDE port.
Memorypack堡隆有限公司 / POLU industrial Ltd , Main Products:
‧Smart phone case / cover / shell
‧Manufacturing & design of PCB: For dram memory modules, For flash memory cards, For SSD (Solid State Disk), For USB
‧Flash memory card & accessories
Flash memory card readers / adaptors ( Micro SD /SDHC to SD/SDHC, Mini sd to sd adaptor, Micro SD/SDHC to mini SD/SDHC, Micro SD to CF I, SD / SDHC / MMC to CF II reader adaptor, All in 1 memory card reader / adaptor, Micro sd to USB 2.0 reader / adaptor, Micro SD & m2 to USB 2.0 reader / adaptor, SDXC & SDHC to USB 2.0 reader / adaptor, SD & SDHC to USB 2.0 reader / adaptor, Micro SDXC & SDXC to USB 2.0 reader / adaptor, USB 3.0 reader (support micro sdxc & sdxc), micro sd to xD, SD / SDHC / MMC card to cardbus pc card reader / adapter, PCI to CardBus/PCMCIA PC Card Adapter + 3.5" Card Drive, CF (CompactFlash) to 2.5" SATA (Serial ATA) interface HDD )
Memory card packages ( Memory card storage box, Memory card packages(pure plastic blister clamshell box , envelope paper pack + internal plastic inserts , memory card mini cases / jewel boxes, memory card trays), Memory card labels / stickers )
Introduction of flash memory cards' brands ( Fujitsu memory card, Kingston dram memory module / flash memory cards )
Memory card / USB duplicators
Dram memory module packages, dram memory module heat sinks ( Long dimm, So dimm, VLP dimm, Mini dimm, VLP mini dimm, Micro dimm, Sun module, Apple FB dimm, 72 pin, cardboard box )
‧SSD (Solid State Drive) & accessories ( packages and tray, adapters / converters )
‧Hard Disk Drive (HDD) and accessories (2.5" SSD / 2.5" HDD / 1.8" SSD / 1.8" HDD, 3.5" HDD)
‧CPU processor and accessories (Plastic blister &Trays for CPU processor: Intel P3, Intel 478, Intel LGA 775 /like E5400, Intel LGA 1156/like G6950, Intel LGA 1366/like I7-930)
‧USB Flash Pen Driver Packages
‧ESD cardboard box
‧Plastic bags for battery, memory cards & others
‧Dram memory module converter / adaptors
www.memorypack.com.tw
www.wjp-memorypack.com
sdcfa-co2 sdxc sdhc mmc to cf type II reader adaptor memory card reader adaptor micro sd m2 ms pro duo cf xd mini sd t flash usb pcmcia
sdcfa-c02 sdhc sd mmc to cf type II reader adaptor memory card reader adaptor micro sd m2 ms pro duo cf xd mini sd t flash usb pcmcia smart media pc card express card